Cremona Musica 2023: The Ultimate Destination for Music Enthusiasts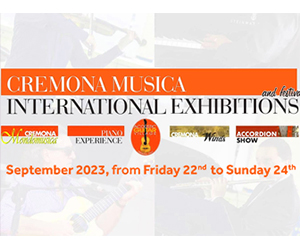 Cremona Musica 2023, an internationally acclaimed music exhibition, is just around the corner, promising a harmonious blend of music, culture, and innovation. Whether you are a music aficionado, a professional musician, or an enthusiast, this event is set to dazzle you with its grandeur. In this blog, we will delve into what makes Cremona Musica 2023 so special and also shine a spotlight on PentacleIndia.com, a manufacturer specialized in violin, viola, cello, bass, and guitar fittings and accessories.
Cremona Musica 2023: A Melodic Extravaganza Cremona Musica, held annually in Cremona, Italy, is renowned as one of the world's leading music trade fairs and festivals. This prestigious event celebrates the beauty of music through exhibitions, concerts, workshops, and more. Here's what you can expect from Cremona Musica 2023:
Musical Instruments Galore:
Cremona Musica showcases an extensive array of musical instruments, from classical violins to modern electric guitars. It's the perfect place for musicians and collectors to explore and discover unique instruments.
Masterclasses and Workshops:
Learn from the best in the industry. Renowned musicians and luthiers offer masterclasses and workshops, sharing their knowledge and skills with aspiring artists.
Concerts and Performances:
Enjoy mesmerizing performances by virtuoso musicians. The festival's concert series features diverse genres and styles, catering to a wide audience.
Networking Opportunities:
Connect with musicians, instrument makers, and music enthusiasts from around the globe. Cremona Musica provides a platform for networking and collaborations.
Innovations in Music Technology:
Stay updated with the latest advancements in music technology, from innovative apps to cutting-edge instrument designs.
PentacleIndia.com: Crafting Musical Excellence Now, let's shift our focus to this distinguished manufacturer specializing in violin, viola, cello, bass, and guitar fittings and accessories. This Indian-based company has carved a niche for itself in the world of musical craftsmanship. Here's what sets PentacleIndia.com apart:
Quality Craftsmanship:
PentacleIndia.com takes pride in crafting high-quality fittings and accessories for stringed instruments. Their products are designed to enhance the performance and aesthetics of these instruments.
Wide Range of Offerings:
From bridges and tailpieces to fine tuners and endpins, PentacleIndia.com offers a comprehensive range of fittings and accessories to cater to the needs of musicians and luthiers.
Customization:
They understand that each musician has unique preferences. PentacleIndia.com provides customization options, allowing musicians to choose fittings that match their musical style and instrument type.
Commitment to Tradition:
Drawing inspiration from traditional craftsmanship, it infuses modern techniques and materials to create fittings and accessories that meet the demands of contemporary musicians.
Global Reach:
PentacleIndia.com serves musicians and luthiers worldwide, contributing to the global music community by providing high-quality products.
In Conclusion: Cremona Musica 2023 is undoubtedly a musical paradise for anyone passionate about music, while PentacleIndia.com complements this passion with its commitment to crafting exceptional instrument fittings and accessories. Whether you're attending Cremona Musica or looking to enhance your musical journey with quality accessories, both these entities share a common love for music and a dedication to its evolution. Don't miss the opportunity to experience the best of music and craftsmanship at Cremona Musica 2023 and explore PentacleIndia.com for your musical needs.